The Harmony Collection Amber Meadow is an ode to Scotland, to its dizzying landscapes. Anyone who has ever trodden its vast flowered meadows and fields of barley stretching as far as the eye can see, caressed by the low-angled sun of late summer, knows what it entails. This is the case for the McCartney sisters – Stella, the stylist, and Mary, the photographer – who spent their childhood exploring them. In collaboration with Steven Bremner, one of The Macallan's malt managers, they sought to translate through their creative and artistic work the sensory experience locked in their memory – vibrant colors, heady scents. Aged in a combination of ex-Bourbon and Sherry casks, The Harmony Collection Amber Meadow is a balanced single malt that, with its floral and cereal notes, evokes a summer evening in the valleys of Speyside. The visual elements of the packaging – curated by Stella – and the photographs of the Macallan Estate – captured by Mary – extend the gustatory immersion that this edition invites you to experience.
The Harmony Collection range
At The Macallan, everything is about origins. Their malts, renowned worldwide for their quality and reputation, always bring us back to where it all began: in Speyside. The Easter Elchies is the soul, the home, the cradle of The Macallan. It all started from this small, typically Scottish building, in the heart of nature, in 1824.
The Harmony Collection range pays tribute to this quest for roots and the harmonious bonds that unite The Macallan with its natural environment. For this third edition, the focus is on Scottish meadows and barley fields: their colors, inimitable during the long summer evenings, their distinctive aroma of mixed grains and flowers, and the unforgettable memories engraved in the minds of those fortunate enough to traverse them. The perfect occasion for a collaboration with artists Stella and Mary McCartney, who spent their childhood there. As always, The Harmony Collection remains closely connected to nature: all packaging in the range is derived from the recycling of natural materials. Thus, the packaging and label of The Harmony Collection Amber Meadow are made from recycled plant elements.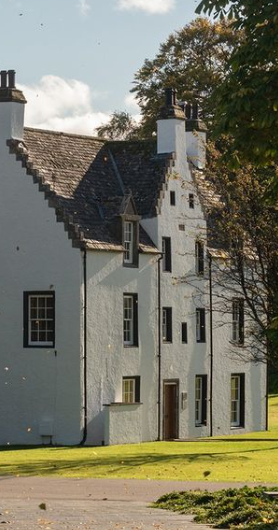 A mere glance at the label sets you on the path. Without a doubt, you are in the presence of a legendary malt. The quaint Scottish facade depicted on it is Easter Elchies, the natural and spiritual home of The Macallan. Perhaps the most renowned Scottish whisky in the world. Such fame is not acquired by chance. The quality and structure of the single malts from this distillery have earned praise for their aging capacity and excellence across the globe. Famous for its long-aged spirits in Sherry casks, The Macallan now offers a diverse and innovative range, mirroring its new distillery: impressive, modern, yet intimately connected to the surrounding nature and faithful to its origins.