Bhlas Glass
Tasting glass
40 years ago, we designed and developed this mouth-blown crystal glass to make every tasting experience accessible, quick and reliable. The full range of aromas can be found in an orderly fashion, in all their richness and clarity. Bhlas is the only glass to create an aromatic sphere that develops at the level of its chimney neck. This tasting tool allows each spirit to express itself in all its complexity. Its organoleptic qualities as well as its slightest defects will not escape the Bhlas user.
Free delivery from 130 € in metropolitan France, Click & Collect, Customer service - response within 24 hours, Secure and discreet packaging
Characteristics
Product details:
| | |
| --- | --- |
| Type / Subtype | Glass |
| Brand / Distillery | The Whisky Lodge |
| Country/ Region | France - France |
| Size | 1A l'unité |
| Packaging | Tube |
| Price range | De 0 à 40€ |
The Whisky Lodge is a boutique specialising in the sale of exceptional spirits and rare alcohols, family-owned and independent since 1968. Established in Lyon since 1993, the company caters for both private and professional customers, and adapts its advice and selection accordingly, always with passion. Specialising in whisky, our establishment also offers a wide selection of Cognacs and Armagnacs, rums, white spirits, liqueurs and mutated wines. In addition to the shop and trading activity, we are also a breeder and importer of spirits. Our range of Orcines single casks, our French bottling brand Peuchet, and the independent bottlers we distribute are the expression of this philosophy and these convictions.
Related Products
Epuisé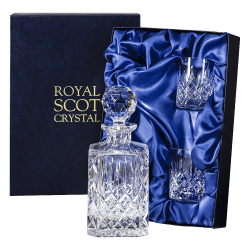 Royal Scot Crystal, Square Decanter and 2 Old Fashioned Glasses
United Kingdom
Notify me