Bulleit 10 year old
Bourbon
The 10 year old version of Bulleit Bourbon. The prolonged ageing brings more richness to the woody and spicy notes. The aromatic palette is marked by spicy flavours (nutmeg, cinnamon, pepper, cloves), followed by dried fruit flavours (apricots, peaches, plums), chocolate with hazelnuts and caramelised almonds (Toblerone) and burnt wood (maple, oak, coconut) - honey.
United States, Kentucky Straight Bourbon
70 cl, 45,6 %Vol
Style
Fruity, Spicy, Woody
Aroma
Apricot, Black pepper, Burnt wood, Cinnamon, Clove, Dried fruit, Nutmeg, Peach, Plum, Spic
Free delivery from 130 € in metropolitan France, Click & Collect, Customer service - response within 24 hours, Secure and discreet packaging
Characteristics
Product details:
| | |
| --- | --- |
| Type / Subtype | Straight Bourbon |
| Brand / Distillery | Bulleit |
| Country/ Region | United States - Kentucky |
| Strengh | 45.6 %Vol |
| Size | 70cl |
| Packaging | None |
| Price range | De 0 à 40€ |
The Bourbon brand, which is now widely recognised by its slanted, colourful labels, was only created in 1987. Thomas E. Bulleit, a promising young lawyer, decided to leave the courtroom and follow in the footsteps of his great-great-grandfather: Augustus Bulleit. The Frenchman, who had moved to the United States, worked as a tavern keeper in Louisville in the 1830s. There he created a Bourbon with a high rye content for his regulars, with a strong, round, spicy and full-bodied character. Legend has it that Augustus Bulleit disappeared overnight, without a trace, while transporting barrels. The mystery remains today, just as the origin of Bulleit-aged spirits has long remained a mystery. Many rumours circulated on this subject, with a strong suspicion on the part of Four Roses. These rumours have ceased since 2017 and the opening of a new state-of-the-art facility in Shelbyville, Kentucky, which combines a distillery and a visitor centre.
Related Products
Epuisé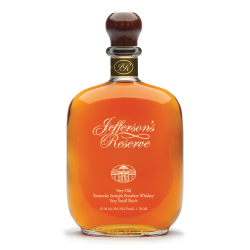 90 Proof, Bourbon
United States, Kentucky Straight Bourbon
Notify me