Johnnie Walker Green Label
15 year old
Scotland, Blended Malt Scotch Whisky
70 cl, 43 %Vol
Style
Fruity, Gourmet, Spicy
Aroma
Caramel, Cinnamon, Fruit of the orchard, Ginger, Hazelnut, Light smoke, Nutmeg, Nuts
Free delivery from 130 € in metropolitan France, Click & Collect, Customer service - response within 24 hours, Secure and discreet packaging
Characteristics
Product details:
| | |
| --- | --- |
| Type / Subtype | Scotch Whisky - Blended Malt |
| Brand / Distillery | Johnnie Walker |
| Country/ Region | Scotland - Écosse |
| Strengh | 43 %Vol |
| Size | 70cl |
| Packaging | Case |
| Price range | De 40 à 60€ |
A single sentence can sum up the Johnnie Walker brand: "Born 1820 – Still going Strong". Since its launch, the brand with the square bottle and the figure in the top hat has gone from strength to strength. It first started with the opening of John Walker's grocery store in Kilmarnock in 1820. And then the creation of Old Highland Bend, the brand's first iconic whisky, by Alexander Walker in 1857. The creation of the iconic "Striding Man" by designer Tom Browne in 1908, followed by the release of the Red and Black Label. The acquisition of the Cardhu distillery in 1893 was another step up the ladder. In the 1950s, Johnnie Walker became the best-selling whisky brand in the world. That hasn't changed. New expressions and colours have been added to the range over the years: Green, Double Black, Blue, Gold, Platinum, as well as limited editions. In 2020, Diageo paid tribute to the brand's origins on the occasion of its bicentenary with a "Celebratory Blend" that appropriated the codes of the first "Old Highland Whisky".
Related Products
Epuisé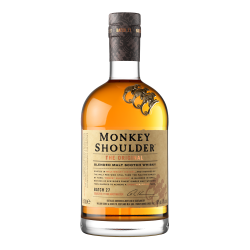 Scotland, Speyside Blended Malt Scotch Whisky
Notify me