Glenfiddich 36 year old 1974
Rare Collection, American Oak
Scotland, Speyside Single Malt Scotch Whisky
70 cl, 46,8 %Vol
Free delivery from 130 € in metropolitan France, Click & Collect, Customer service - response within 24 hours, Secure and discreet packaging
Characteristics
Product details:
| | |
| --- | --- |
| Type / Subtype | Scotch Whisky - Single Malt |
| Brand / Distillery | Glenfiddich |
| Country/ Region | Scotland - Speyside |
| Strengh | 46.8 %Vol |
| Size | 70cl |
| Packaging | Wooden Box |
| Vintage | 1974 |
| Price range | Plus de 100€ |
Everything about Glenfiddich is outstanding. Its size, the number of its stills, its production capacity, the number of bottles sold in the world... But before becoming a giant in the whisky industry, Glenfiddich, led by its founder William Grant, was above all a visionary distillery. The first, in 1963, to market a single malt on a large scale under its own brand. The first also to open its doors to visitors. Two crazy ideas at the time, but that revolutionised the modern whisky business model and became the norm. Its original stills came from the Cardhu distillery, which the famous Elizabeth Cumming parted with when she modernised her distillery. Today, the original squat, onion-shaped still has been preserved, coupled with taller, slimmer stills, to achieve a balanced blend of roundness and freshness. Glenfiddich's flavour is fresh and fruity, typical of lighter Speyside, especially in the younger versions. Further maturation in different types of wood also takes place, often blended in huge vats, as with the Glenfiddich 15 Year Old Solera, a first at the time of its launch, signed by the legendary David Stewart. Glenfiddich is still instantly recognisable today with its legendary triangular bottle.
Related Products
Epuisé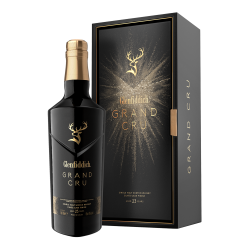 Scotland, Speyside Single Malt Scotch Whisky
Notify me