Ardbeg Ten
10 year old
This non chill filtered single malt is aged for 10 years in bourbon casks (Barrels). This version, introduced in 2000, has become a reference in the world of "Smoked - Peated" whiskies. A rich palette of smoked salmon, iodine and dried fruit aromas.
Scotland, Islay Single Malt Scotch Whisky
70 cl, 46 %Vol
Style
Marine/Ideal, Peat, Smoked
Density
Flattering, Patina, Soft
Aroma
Licorice, Peat fire, Salted fish
Free delivery from 130 € in metropolitan France, Click & Collect, Customer service - response within 24 hours, Secure and discreet packaging
Characteristics
Product details:
| | |
| --- | --- |
| Type / Subtype | Scotch Whisky - Single Malt |
| Brand / Distillery | Ardbeg |
| Country/ Region | Scotland - Islay |
| Strengh | 46 %Vol |
| Size | 70cl |
| Peated | Heavily Peated |
| Packaging | Case |
| Price range | De 40 à 60€ |
A troubled history, an unconventional image, a strong character and a cult status: Ardbeg is the "rock 'n' roll star" of the island of Islay. Founded in 1815 by the McDougall family, the distillery has gone through a lot and embodies the history of Scottish malts: from the glory days of the late 19th century, when the thirst for smoked malts in blends was unquenchable, to the closure during the overproduction crisis in the 1980s, including multiple takeovers (DCL, Hiram Walker and finally Glenmorangie in 1997). Since then, thanks to Glenmorangie's huge work on the stock and casks, this legendary distillery has regained its aura. Driven by a solid core range (10 Year Old, Uigeadail, Corryvreckan, An Oa, and now 5 Year Old and 19 Year Old), yearly limited editions and a die-hard fan base, Ardbeg is once more one of the leading distilleries in Scotland and can now face the future, with the retirement of its legendary master distiller Mickey Heads and the arrival of a new pair of stills. For a long time the most peated single malt in the world (overtaken in recent years by Octomore), Ardbeg is nonetheless a great whisky, which can offset its power and its oily aromas, as it matures, sometimes with a typical acidity and fruity freshness, and sometimes with a richness and fulness of fascinating depth.
Related Products
Epuisé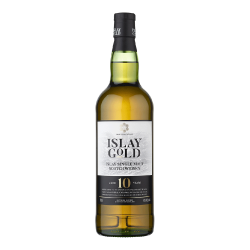 Scotland, Islay Single Malt Scotch Whisky
Notify me