Jack Daniel's Bottled In Bond
Tennesse Whisky, 100cl
United States, Tennessee Whisky
100 cl, 50 %Vol
Free delivery from 130 € in metropolitan France, Click & Collect, Customer service - response within 24 hours, Secure and discreet packaging
Characteristics
Product details:
| | |
| --- | --- |
| Type / Subtype | Whisky |
| Brand / Distillery | Jack Daniel's |
| Country/ Region | United States - Tennessee |
| Strengh | 50 %Vol |
| Size | 100cl |
| Packaging | None |
| Price range | De 40 à 60€ |
One seldom comes across brands that are recognisable at first glance. Brands whose huge success does not wane. Brands that, more than a hundred years after their creation, still arouse fervour among their fans. Jack Daniel's, and even more so its legendary Old N°7, is one such brand. More than a brand, this whisky is a true legend, the object of an unrivalled cult. Along with Gorge Dickel, Jack Daniel's is the only other Tennessee Whiskey. While their production process and flavour are very similar to that of Bourbon, all Jack Daniel's is drip-filtered through maple charcoal, in what is known as the Lincoln County Process (sometimes also referred to as "The Extra Blessing"), which gives it its characteristic smoothness. Another specificity: Jack Daniel's, the best-selling American Whiskey in the world (17.7 million cases in 2019), is produced in Lynchburg, in Moore County, which is a "dry county": prohibition was never repealed there and the sale of alcohol is still strictly forbidden. The distillery, officially founded in 1866 by Jasper Newton "Jack" Daniel, has been supplied from the very beginning by the Cave Spring Hollow, a very pure water source, at an unchanging temperature of 13°C. The Old No. 7 first became successful at the 1904 World's Fair in St. Louis. Then business really took off, despite the death of its emblematic founder, who passed in 1906 as a result of a foot injury he sustained one day when he arrived at his office early and kicked his safe to open it, in the absence of his accountant, who alone held the keys. Today the Jack Daniel's range is very extensive: Old N°7, Single Barrels, collector's editions, liqueurs...
Related Products
Epuisé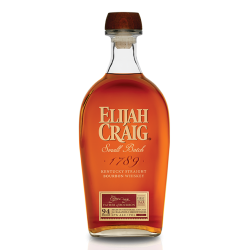 Notify me