Kilchoman Machir Bay
Gift Box with 2 Glasses
Scotland, Islay Single Malt Scotch Whisky
70 cl, 46 %Vol
Free delivery from 130 € in metropolitan France, Click & Collect, Customer service - response within 24 hours, Secure and discreet packaging
Characteristics
Product details:
| | |
| --- | --- |
| Type / Subtype | Scotch Whisky - Single Malt |
| Brand / Distillery | Kilchoman |
| Country/ Region | Scotland - Islay |
| Strengh | 46 %Vol |
| Size | 70cl |
| Packaging | Gift Box |
| Price range | De 60 à 100€ |
Although opening a distillery in Scotland seems to have become commonplace over the last few years, the inauguration of Kilchoman in 2005 was an event. It was the eighth distillery on the island, after 124 years with seven. Located in the North-West of the island, it is a farm distillery which integrates all the steps of whisky production, from the production of the cereals to bottling. The barley grown on site provides about 25% of the needs. The single malt produced and matured in ex-bourbon or ex-sherry casks, depending on the version, is moderately peaty, strongly iodized and its "farmhouse" character stands out. The first brandies over 10 years old are beginning to be used in blends, confirming the high quality of this malt, which is already evident in the younger versions. The Wills family, who owns Kilchoman, has recently invested to double its production capacity: an additional malting floor and kiln were built in 2017; two more stills, a mash tun and six washbacks were installed in 2019. Kilchoman's annual production has now reached 500,000 litres of pure alcohol per year.
Related Products
Epuisé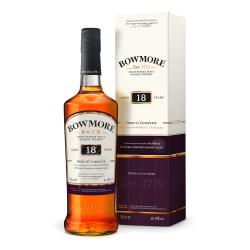 Scotland, Islay Single Malt Scotch Whisky
Notify me